Step 1
Find and open the installer
Open the EnsureInstaller.pkg file from Safari downloads at the top right corner of this window.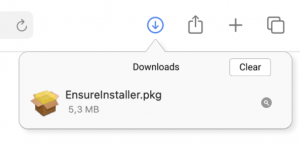 If you don't see the installer in the top right corner do this:
On your Mac press Cmd + spacebar (or open Spotlight search) and type "EnsureInstaller.pkg" then click on the installer.
Step 2
When the installer is opened, follow the guided installer and type your password when prompted to do so.