If your policy is to secure your network, you probably already secure your own endpoint devices. Now, you can make sure that your third-parties' devices (vendors, contractors, brokers, consultants, etc.) are secure, before they can get access to your information. Most devices have seamless logins to servers and cloud services. This means that once a perpetrator has access to an unsecured device – anything that device can access may put your organization at risk.
How it Works
The Ensure platform is a U.S. patented technology that allows large organizations to educate, assess and enforce the security posture of third-party devices.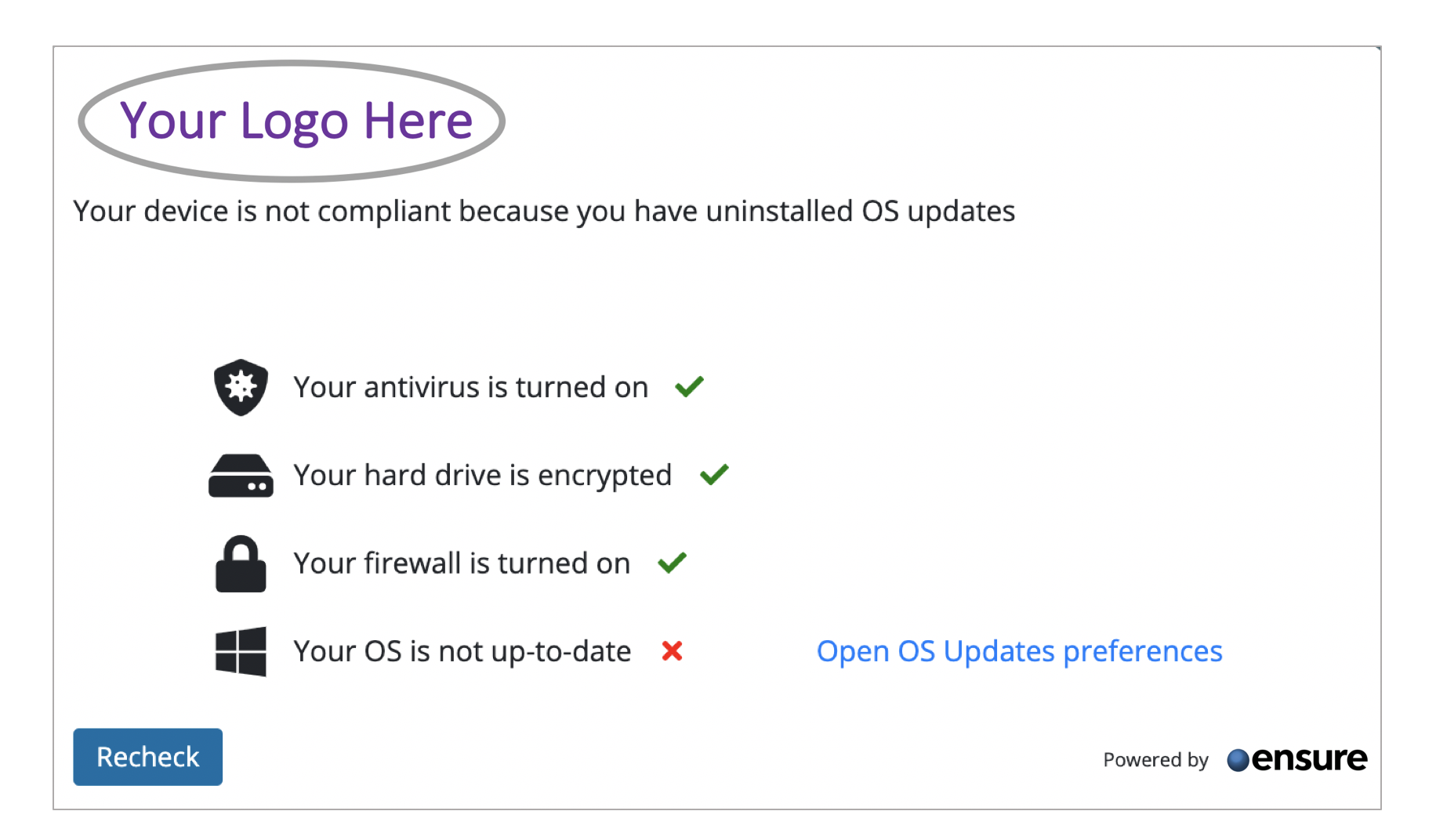 The work flow: A user who tries to log into a corporate web portal can be prompted to read educational messages and/or download the Ensure Verify app. The app verifies that, for instance, the passcode/password on the user's device has been turned on. In case the passcode is not turned on, the Ensure Verify app sends a report back to the corporate web portal, notifying the user that the device is denied access (because of lack of compliance) and is advised as for how to self-remediate.
After turning on the passcode, the user can return to the corporate web portal and try to log into again. This time, the Ensure Verify app can detect that the passcode is turned on and report back to the corporate web portal, which will now allow the user to log in.
As long as there are no changes, future logins for this device will be seamless, as the app automatically detects the security stance in the background.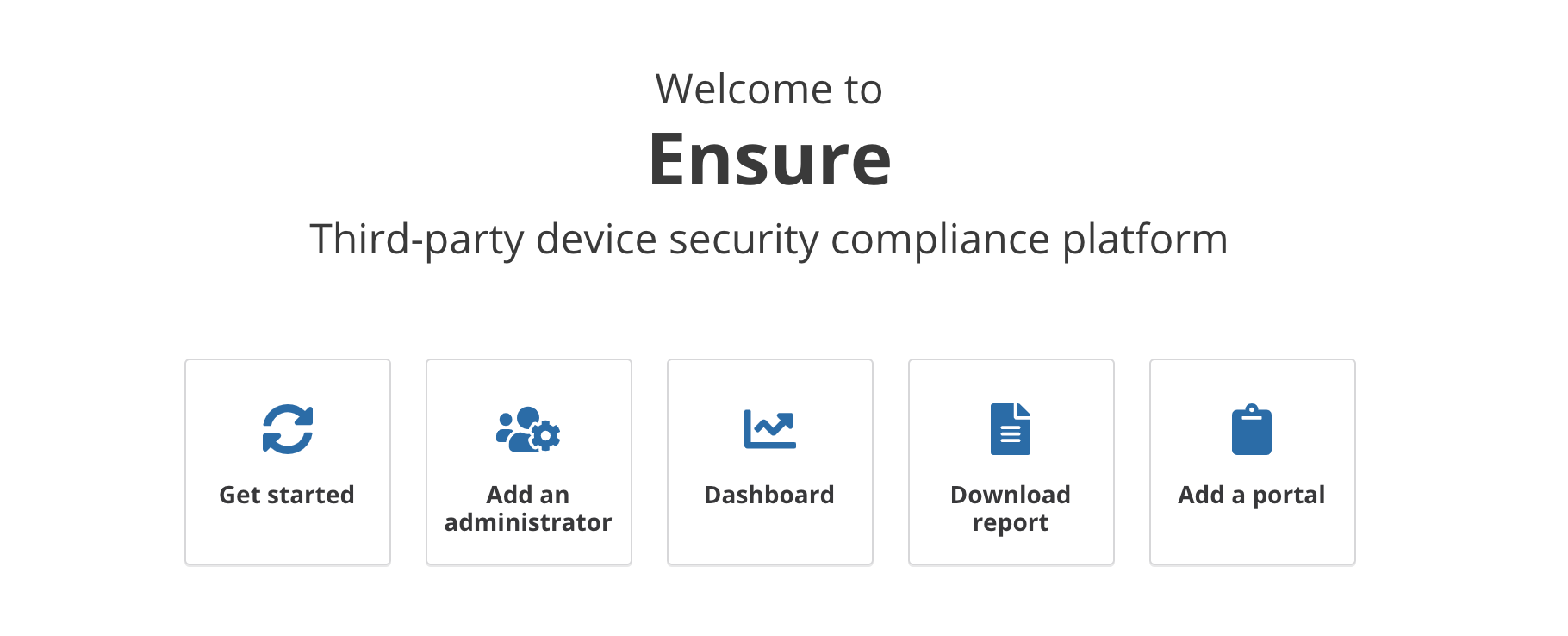 Web based Admin platform: Access to the Ensure platform is achieved via a web admin portal. Here,  you can edit popup messages, select devices and craft your educational communication. The platform has a built-in self-remediation capability for third-parties. The system can be set to either educate and advise and/or verify and enforce compliance checks. Vital checks include device encryption, anti-malware, a personal firewall and updates of device operating system.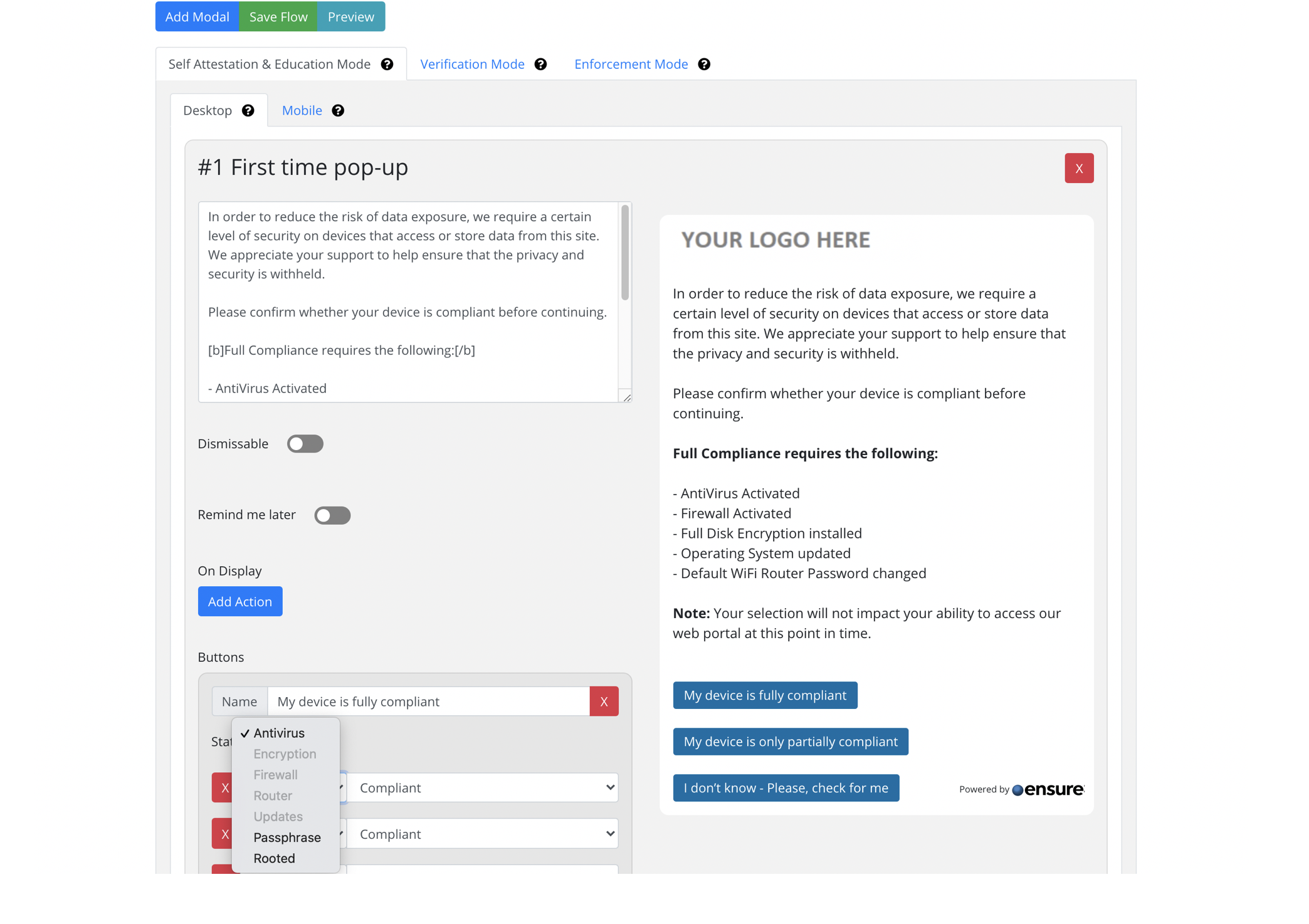 Eliminate the administration and management demands of traditional data platforms thanks to Ensure's fully managed cloud platform.
Add two lines of code into the login portals for your third-parties. This will enable the full functionality of Ensure. Devices will automatically be checked by our servers and non-compliant devices will be helped to remediate prior to logging into your site. Easy to implement and no administration on your part.
Multiple Browsers, Computers and Mobile Devices Supported
Ensure checks PCs running Windows 7, 8, and 10 Home, Pro and Enterprise as well as Mac OS El Capitan up to Big Sur. Ensure also verifies that all smartphones running iOS (4.2.1 and later) and Android (4.2 and later) are secure before access is granted. Ensure supports most browsers: Edge, Google Chrome, Firefox, UC Browser and Safari.
Device Security Detection & Self-Remediation
The rapid compliance check initiates a one-time download of an agent when a device requests to log in. The agent is installed the first time it is downloaded. Smartphones and tablets download an app. All future compliance checks will be seamless and instant.
The check will report IP-address, date, time, device ID, browser, operating system, encryption status, anti-malware status and firewall status. No other data is collected or stored. Ensure is agnostic and detects any security flaw regardless of vendor or OS-native. For smartphones and tablets, it also checks that Android devices are not rooted. If required, the collection of IP-addresses can be disabled.
It is important that device owners can fix their compliance issues promptly in order to go about their business. Therefore, there is a built-in capability to self-remediate any issues. In many cases, device security functions are already built-in, but need to be activated.
The Ensure agent is also available as a generic .msi package, that can be included in a standard build or computer image.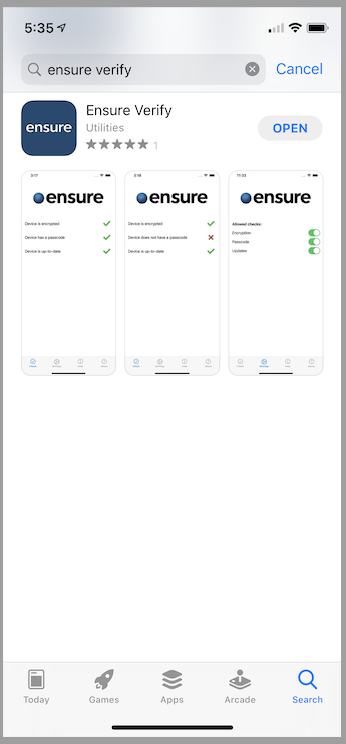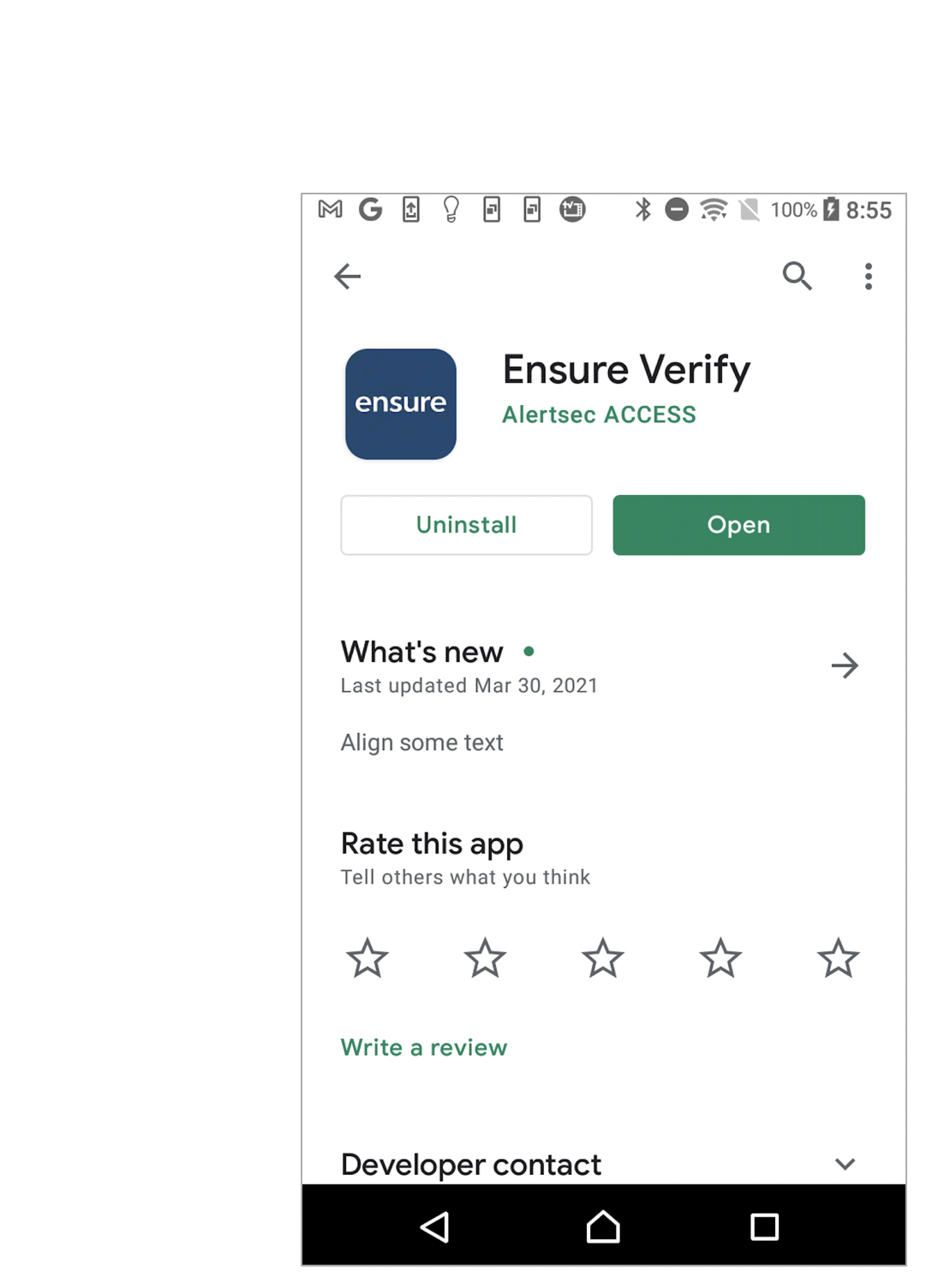 For smartphones and tablets, an app needs to be downloaded.
Install a Java Script
All you need is two lines of code: After setting up a new customer account you will receive an email with login credentials to your Ensure platform. The dashboard contains an implementation guide, as well as the Java Script code needed to activate Ensure on your web portal.

For each checked device, the customer dashboard will log and display IP-address, date and time, device ID, operating system and browser. Once installed, your web login portal is secured by the Ensure technology. Each device that tries to log in will be prompted to download an agent.
Statistics
Every action, such as session IDs, shown messages, clicked buttons, self-remediation actions etc., between a device and the Ensure platform creates a data point that is stored in a database. This database also stores real-time compliance responses, both from message responses and from app responses.
Statistics can be downloaded or exported via an API.
Administration
You don't need to train your technicians to maintain and administrate Ensure. Once installed, it simply educates, verifies and, if you choose to, blocks non-compliant devices. Real-time monitoring of all device verifications is done from the dashboard.
Delivery
Ensure is delivered as a platform. After setting up a customer account, an email containing the login credentials to the Ensure platform, is delivered.